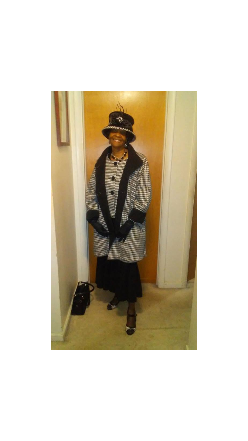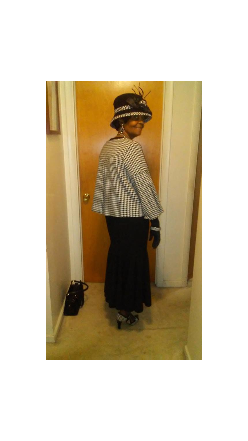 November 6, 2017
Tribute to "Church Ladies"
Last Sunday morning, I was helping my 88-year-old mother pick out jewelry to match the suit, hat, and shoes she would be wearing to church. The band on her hat perfectly matched the color of her blouse which perfectly matched her shoes. Aches and pains aside, when she walked into church, she and her outfit were a testament to the elegance of black women in general and the elegance of black "church ladies" specifically. Pass by most black churches on Sunday morning and you will see outfits that rival those of New York Fashion Week and those of the current potentates of today's fashion world.
In this regard, I recently saw one of the most fashionable church ladies I know, Rev. Christine Glover of Christ-In-Me Ministries, Inc. of Pittsburgh, Pennsylvania. She was wearing a calf length black v-neck sheath topped by a black and white houndstooth jacket with ¾ length bell sleeves, black opera length gloves adorned with a red-carpet diamond bracelet and gemstone rings, topped off with a classic cloche hat with a cascading houndstooth band, and color blocked red, black, and houndstooth ankle strapped stilettos. And this was a Friday night service.
Being quite enterprising, this diva of haute couture uses fashion as a ministry and witnessing opportunity. Once she is complimented on an outfit, she shares a pamphlet in which she uses her life story to explain the plan of Christian salvation. She explains that as a child she didn't have much. But, as a young adult the Lord led her to a Thrift Store where she could buy brand name clothing at low prices. She shops at that store to this day and she is currently retired. She says, "I wanted my clothing to reflect the fact that I was being dressed up by the Holy Spirit." She describes being born again as "putting off the old man" and "putting on the new man." She declares, "We do this by faith in that which the Holy Spirit has done in our lives as a result of our new birth experience."
"Church clothes" are hallmarks of our culture. As children, many of us may not have had many material possessions but we had at least one outfit in each important category – school clothes, play clothes and church clothes. The same went for shoes with church shoes being those black patent leather Buster Browns. I also remember many painful Saturday afternoons having my hair hot-combed and Shirley-Temple-curled in preparation for church the next day. We learned at a young age that beauty involves a bit of pain and sacrifice.